АЭРОФЛОТ - РОССИЙСКИЕ АВИАЛИНИИ ПУБЛИЧНОЕ АКЦИОНЕРНОЕ ОБЩЕСТВО (AEROFLOT - RUSSIAN AIRLINES PUBLIC JOINT-STOCK COMPANY), Tashkent, Uzbekistan - contacts, address, phones
1200555, 1200556
City code: вн.(371) межд.(71)
Faxes: 1200557
E-mail: Write message
Legal name: AEROFLOT - RUSSIAN AIRLINES PUBLIC JOINT-STOCK COMPANY
Brand name: AEROFLOT - RUSSIAN AIRLINES PUBLIC JOINT-STOCK COMPANY
Address: Uzbekistan, 100090, TASHKENT, YAKKASARAY area, 9-th ABDULLA KAHHAR travel, 1.
Working hours: 09:00 - 18:00; перерыв 13:00 - 14:00; вых. сб, вс.
When contacting AEROFLOT - RUSSIAN AIRLINES PUBLIC JOINT-STOCK COMPANY, please tell me that you found information about the organization in the directory Yellow Pages Uzbekistan, Yellow Pages of Uzbekistan.
View statistics of the organization «AEROFLOT - RUSSIAN AIRLINES PUBLIC JOINT-STOCK COMPANY»
September 2017: 1511
August 2017: 1155
for 3 month: 3184 (August 2017 - June 2017)
Companies from this category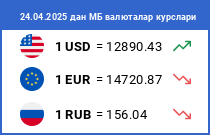 Button on your site
<a href="http://www.yellowpages.uz" target="_blank"><img src="http://www.yellowpages.uz/Data/Files/1059_knopka.gif" width="88" height="31" border="0" alt="Yellow Pages Uzbekistan" /></a>