SDM POWER ООО (SDM POWER LLC), Tashkent, Uzbekistan - contacts, address, phones
(99890)3576644, (99893)5853222
City code: вн.(371) межд.(71)
E-mail: Write message
Working hours: 09:00 - 18:00, перерыв 13:00 - 14:00, вых.: сб., вс.
Web site: sdm-power.com
Legal name: SDM POWER LLC
Brand name: SDM POWER LLC
Address: Uzbekistan, TASHKENT, MIRABAD area, NUKUS street, 73.
When contacting SDM POWER LLC, please tell me that you found information about the organization in the directory Yellow Pages Uzbekistan, Yellow Pages of Uzbekistan.
View statistics of the organization «SDM POWER LLC»
October 2017: 356
September 2017: 113
for 3 month: 366 (September 2017 - July 2017)
Location on the map
Companies from this category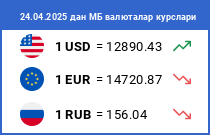 Button on your site
<a href="http://www.yellowpages.uz" target="_blank"><img src="http://www.yellowpages.uz/Data/Files/1059_knopka.gif" width="88" height="31" border="0" alt="Yellow Pages Uzbekistan" /></a>