Asphaltic products, Uzbekistan: companies calatogue, their addresses, phones, contacts
There is the complete information about Asphaltic products of Uzbekistan region in this «Yellow Pages Uzbekistan» directory.
Companies in other regions of "Asphaltic products" rubric
Статистика просмотров данной рубрики: Asphaltic products
for current month (August 2017): 394
for last month (July 2017): 1384
for 3 month (July 2017 - May 2017): 3138
for half year (July 2017 - February 2017): 5456
for year (July 2017 - August 2016): 11166
Asphaltic products in Uzbekistan: the most complete list of companies with contact data. Yellowpages.uz presents the page which contains reference information about Asphaltic products in Uzbekistan.
This catalogue helps you to find companies' addresses, phone numbers, location, contacts, and other necessary data about them. By using our directory you always can get interesting information about Asphaltic products, including reference-points of the companies' location which help you quickly reach them.
Information about Asphaltic products in the catalogue regularly brushes and filled up by new data or changes in them. Yellowpages.uz specialists do all possible work of checking up the authenticity of the information. That's why our catalogue guarantees the actuality of the data on that moment, when Asphaltic products in Uzbekistan entered to general list.
Nevertheless, we will be thankful to you for your report about not correct or out-of-date information in «Asphaltic products» category for Uzbekistan region by your letter to our (info@yellowpages.uz) electronic address, if you discover it. We ask you to write «error on the site» in your letter theme and describe a problem in a letter's body. In addition, if you have possibility, you may call us by +998 71 291-77-24 hot line phone number. The data which was gotten from you after verification will be brought in «Asphaltic products» division of directory.
Also we want to appeal to the property owners and employees, who are the representatives of Asphaltic products in Uzbekistan. If you are interested in development of your business and free advertising of the directed action, Yellowpages.uz directory can become your irreplaceable helper. You won't have to spend fabulous sums for ordering the commercial films, banners and another ways of advancement of your business. For the placing the data about Asphaltic products in our catalogue it's only desire and giving the information from you required. We'll do all what we can for our collaboration which brings the mutual benefit to each other. Add your organization to Asphaltic products division right now after getting and filling the form of Questionnaire in «MS Word» format (size 111 Kb).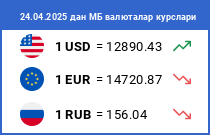 Button on your site
<a href="http://www.yellowpages.uz" target="_blank"><img src="http://www.yellowpages.uz/Data/Files/1059_knopka.gif" width="88" height="31" border="0" alt="Yellow Pages Uzbekistan" /></a>